News Releases
| March 9, 2021
David Thomey Receives NSSGA's 2021 Barry K. Wendt Commitment Award
CONTACT: Kerry Lynch
(703) 526-1072, klynch@nssga.org
ALEXANDRIA, VA – The National Stone, Sand & Gravel Association (NSSGA) today presented David Thomey of Martin Marietta with the 2021 Barry K. Wendt Commitment Award during NSSGA's Annual Convention.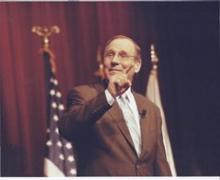 "The Barry K. Wendt Memorial Commitment Award is our industry's highest honor, and we are thrilled to present this to David Thomey of Martin Marietta," said NSSGA President & CEO Michael Johnson. "Having served as a past NSSGA Chairman, Thomey has been an important voice for our industry. His dedicated career truly embodies the meaning of this award."
Thomey is being recognized for his commitment to his industry and his community.  Currently the Maryland Community Relations Manager for Martin Marietta, Thomey has a long history of leadership in the aggregates industry.  He served as Chairman, President and CEO of Maryland Aggregates Association; and COO and Board Chairman of NSSGA.
As a lasting memorial to Wendt, who exemplified extraordinary commitment to family, career and the aggregates industry, NSSGA's Manufacturers and Services Division established the annual award in 1998 to recognize an individual in the industry who exhibits the dedication exemplified by Barry Wendt, both in commitment to the industry and the community in which they live. 
 
NSSGA is the leading advocate for the aggregates industry. Its members – stone, sand and gravel producers and the equipment manufacturers and service providers who support them – produce the essential raw materials found in homes, buildings, roads, bridges and public works projects, NSSGA represents more than 90 percent of the crushed stone and 70 percent of the sand and gravel produced annually in the United States. Learn more at www.nssga.org.