ICYMI:  Previously during Safety Month
CEO Safety Roundtable
Thursday, June 3 at 2:00 p.m. EDT
(exclusively for members)
While everyone is responsible for health and safety, leadership at the CEO level plays a significant role in a company's safety culture. Come learn from NSSGA member company leaders John Griesemer of Springfield Underground; Jay Mizack of Carmeuse; and Dan Stover of CRH Americas Materials during our CEO Safety Roundtable, as they share their views on safety and health in the aggregates industry.
Moderated by NSSGA-MSHA Alliance Chair, Abel Parker (Luck Companies), the roundtable will offer insights from these industry leaders on the role of leadership and management in safety, building and maintaining a safety culture, how to continually improve health and safety, what challenges they foresee, the role of technology and more.
June 7-11: Safety is Personal
Safety Shorts podcast launch
NSSGA launches our new micro-podcast called Safety Shorts! Hosted by NSSGA Director of Safety Policy Libby Pritchard, this safety micro-podcast is quick and easy to listen to. Look for a new Safety Shorts podcast each month.
Subscribe to NSSGA's podcast channel on iTunes, Spotify or anywhere you get your podcasts.
Monday, June 7 - "Complacency and the Value of Nudges" (pilot episode)
Thursday, June 10 - "Seatbelt Safety" featuring Johnny Farley, Rogers Group Inc.
June 14-18: Safety Smarts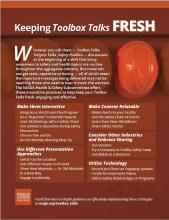 "Keeping Toolbox Talks Fresh" - a new safety resource from the NSSGA Safety Initiatives Task Force
June 21-30: All In For Safety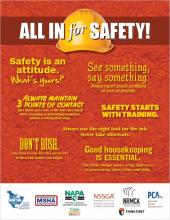 All In For Safety Poster
Safety is everyone's responsibility and for Week 4 of Safety Month 2021, we are proud to partner with our association allies to provide a new poster for the industry - All In for Safety.
We'd like to thank Portland Cement Association (PCA), Industrial Minerals Association (IMA-NA), National Ready-Mix Concrete Association (NRMCA), National Mining Association (NMA) and the Mine Safety and Health Administration (MSHA) for their partnership and participation. Each participating organization has shared its best safety tip included on the poster that you can print out and use in your workplaces.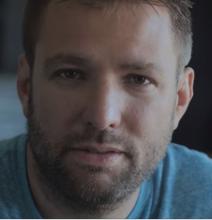 Believe in Safety Webinar
Wednesday, June 30 at 2:00 p.m. EDT
Brandon Schroeder is a safety speaker, an electrician and a survivor of an arc flash explosion. Everyone has decisions to make about safety, and many of them happen in an instant. Having the wrong safety habits make it much easier to make the wrong decisions. Brandon's story is sure to touch us all by bringing to life the potential outcomes of a simple shortcut and why safe practices are so important.